Lynn and Bob Griesemer
We've been happily married since 1985 and have six children born between 1988 and 2002. Our two youngest children were planned, unassisted homebirths.
UnassistedHomebirth.com was created in 1998 and neglected for many years in favor of full immersion in parenting, family and other priorities. We finally updated the website and we're glad you found us! As you spend time on this website, you will come to know us better.
Our intent is to reach out to you and encourage you to seriously consider the following:
1. Your philosophy of birth. That's right. I'm convinced that many people's view of birth is formed based on what our culture has established as the norm and is not necessarily a depiction of YOUR individual, thorough and deep consideration of pregnancy and birth.
2. What is stopping you from considering an unassisted birth? Fear? Conformity? Cultural conditioning? Other people's expectations, such as, "What will the neighbors think?"
More about Bob
Bob grew up in Schenectady, NY and is the oldest of ten children. Lynn admits that this provided many organizational tips for raising a large family.
He received his B.S. in Computer Science from Siena College and M.S. in Computer Science from SUNY New Paltz. After seven years as an Army Officer, he joined Northrop Grumman, where he continues in the software engineering field. He is the author of Oracle Warehouse Builder 11gR2: Getting Started (2011). He maintains a website: www.bobgriesemer.com.
Bob has been an advocate of unassisted homebirth, along with Lynn, since 1996.
He likes golf (but has a hard time making time for golf) and enjoys singing with the Alexandria Harmonizers, a menís chorus. Although his career and job are time consuming at this stage in life, he has always made time for family, camping adventures and many interests along the way.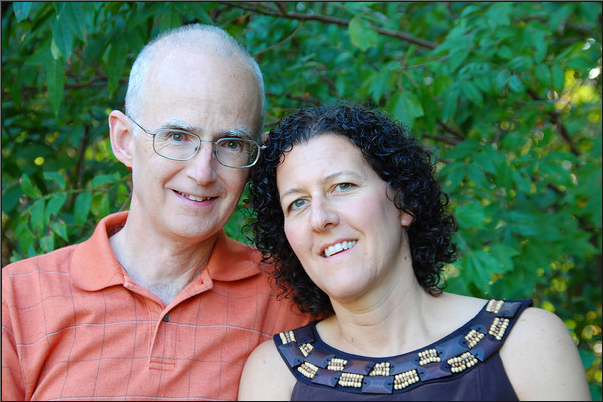 More about Lynn
Lynn M. Griesemer, author of Unassisted Homebirth: An Act of Love (1998), coordinated the First National Husband / Wife Homebirth Conference in 1998. Her passion for birth has resulted from her birth experiences (4 hospital births and 2 unassisted births), but continues to gain momentum because she believes that this issue (childbirth) is HUGE. The importance of a satisfying birth experience is largely ignored by the general public.
She has been a homeschooling mother since 1994 and along with her husband Bob, continues to homeschool their youngest son. (Their oldest son homeschooled through high school; their four daughters chose to attend public high school and youngest son has expressed an interest to homeschool through eighth grade and then attend high school).
She is a former Human Resources Manager and Army Officer. She received her B.A. in Psychology from Boston University and M.S. in Human Resources Management and Development from Chapman University. She received Toastmasters International's highest award, Distinguished Toastmaster (DTM) in 2006. Lynn has volunteered at a crisis pregnancy center and a recreation center, and has served in various leadership positions in various organizations. Lynn and Bob served as volunteers for the Conference for the Engaged Program with the Catholic Diocese of Arlington, VA where they have given presentations to over 1000 people between 2005-2007.
Family Photos
1985
1990
1995
1999
2007
2013