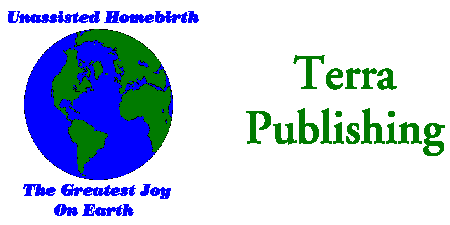 Welcome to Terra Publishing! Because childbirth is such an important event in anyone's life, it is crucial that couples plan, prepare or at least think about birth. Written information is one of the most important ways to learn about birth. Terra Publishing was established in 1997 to provide resources which support the unassisted homebirth option (childbirth without a doctor or midwife) as well as educational resources for couples in search of a more gratifying birth.
My goal is to enlighten people about the alternatives. Just as the American Medical Association is biased, I too am biased. I have discovered that alternative birthing is far superior to medicalized birth, especially when mothers are healthy and confident. I know, because my first four births were under medical circumstances, while my fifth and sixth births were glorious events that I shared with only my husband.
I advocate individuals exhausting their own resources, through extensive research and soul-searching. Examine medical information and alternative information before formulating your conclusions. Childbirth practices and propaganda favor the medical method of birthing, yet thousands of people across the country know that couples-birthing is safe, simple and satisfying, almost every time. Alternative birthers master their pain, fear and anxiety, while mainstream medical birthers mask the authenticity of birth through the use of drugs and technology.
The resurgence of natural and simple living has ignited a demand for the type of materials that we offer at Terra Publishing. You will discover a wealth of information and a treasure chest full of new ideas. I invite you to enter a world of secrets that are now available to you.
Sincerely,
Lynn M. Griesemer
Publisher
---
Terra Publishing Links
Books/articles/reports/tapes for sale on Unassisted Homebirth, 1st National Husband/Wife Homebirth Conference information.
Article
The Power of Silence - The importance of silence during birth.
---